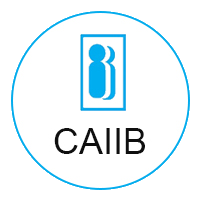 CAIIB Overview
CAIIB 2022-23 Exam: Get the latest updates on the CAIIB exam 2023, Notification, Exam date, Books, and other important official details here.
CAIIB (Certified Associate of Indian Institute of Banking) is one of the flagship exams conducted by IIBF twice every year typically in June/December. The objective of the exam is to enhance the knowledge of the members of IIBF in Treasury management, Credit Management, International Banking and Balance Sheet Management. The exam results in learning as well as monetary benefits.
CAIIB Exam 2023 Eligibility:
Members you have completed JAIIB or PART-1 of the Associate Examination, and their membership subscription should not be in arrears.
How to register for CAIIB Exam 2023?
Go to the official website of IIBF.
You will see the "Examination/Courses" option on the homepage. Click on that.
Under flagship courses, click on "Apply Online".
Log in with your user ID and password.
Fill in all the necessary details asked by IIBF.
Pay the application fee.
Complete the registration process by submitting the form.
Application fees for CAIIB 2023
The application fee is different as per the attempt you are giving.
| | |
| --- | --- |
| Attempt | Fees |
| 1st Attempt | Rs. 3000 |
| 2nd Attempt | Rs. 1300 |
| 3rd Attempt | Rs. 1300 |
| 4th Attempt | Rs. 1300 |
CAIIB Exam Pattern 2022
CAIIB Exam consists of three papers of 100 marks each
| | | | |
| --- | --- | --- | --- |
| Subjects | No. of Questions | Total Marks | Duration |
| Advanced Bank Management (ABM) | 100 | 100 | 2 Hrs. |
| Bank Financial Management (BFM) | 100 | 100 | 2 Hrs. |
| Elective Paper (Optional Paper) | 100 | 100 | 2 Hrs. |

Advanced Bank Management and Banking Financial Management are compulsory papers while the following choice is available to the candidates for the third paper:
Retail Banking
Rural Banking
Human Resource Management
Central Banking
International Banking
Financial Advising
Corporate Banking
Co-operative Banking
Information Technology
Risk Management
Treasury Management
Candidates can choose any subject from these 11 subjects for the third paper. The exam will be conducted in Online Mode only and held in two languages i.e. Hindi and English. There will be no negative marking in the CAIIB exam. Candidates need to score at least 45% in each subject and 50% in aggregate to pass the CAIIB Exam
CAIIB Exam Date 2022
CAIIB Exam is to be held on 27th November, 4th December and 10th December 2022.
| | |
| --- | --- |
| Subjects | Date |
| Advanced Bank Management (ABM) | 27th November 2022 |
| Bank Financial Management (BFM | 4th December 2022 |
| Elective Paper (Optional Paper) | 10th December 2022 |
COMPULSORY PAPER - I: ADVANCED BANK MANAGEMENT

MODULE - A: Economic Analysis

The fundamentals of Economics: Scarcity and Efficiency - Microeconomics & Macroeconomics in brief - Types of economies - Market, Command and Mixed Economies - Macroeconomics: Business cycles - Money and banking - Unemployment & inflation - Interest rate determination and various types of interest rates. Indian Economy (a) Overview of the Indian economy including recent reforms (b) Interaction between fiscal, monetary & exchange rate policies in India - Financial Markets (i) Money Market (ii) Capital Market (iii) Foreign Exchange Market - globalization and its impact - Challenges ahead - Banking & Finance - current issues
MODULE - B: Business Mathematics
Concept of Time Value of Money - Net Present Value - Discounted Cash Flow - Sampling methods - presentation of data - analysis and interpretation of sample data - hypothesis testing - Time series analysis - mean/ standard deviation - co-relation - Regression - covariance and volatility - Probability distribution - Confidence interval analysis - estimating parameters of distribution - Bond valuation - duration - modified duration. Linear programming - decision making-simulation - Statistical analysis using spreadsheets. Features of Spreadsheet - Macros, pivot table, statistical and mathematical formulae.
MODULE - C: HRM in banks
Fundamentals of HRM, development of HRM in India, Relationship between HRM and HRD, Structure and functions of HRD, Role of an HR professional, Human implications of organizations; training and development, attitude and soft skills development, role and impact of training, career path planning and counselling, employee behaviour, theories of motivation and their practical implications, role concepts and analysis, self-development., Performance Management and appraisal systems; Reward/ punishment and compensation systems., HRM and Information Technology, information and data management, and knowledge management.
MODULE - D: Credit Management
Principles of Credit Management Credit Appraisal Analyzing Financial Performance - Relationship between items in Balance Sheet and Profit and Loss Account. Trend Analysis, Comparative Statement - Common Size Statement, Preparation of projected Financial Statements. - Ratio analysis - Interpretation and analysis of different Ratios, Limitations of the use of ratios. Statement of Sources and Applications of Funds. Structuring a Credit Proposal - Working Capital Concept and Management Appraisal techniques for different constituents - trade cycle - credit rating - Technical and economic feasibility studies - Credit Rating - Rating Methodology - Objectives and benefits of rating - Term Lending - Debt Service Coverage Ratio - Cash Flow Analysis - Cash Budget - Bill Finance - Deferred Payment Guarantee - Credit Scoring - Credit Delivery System - Documentation - Post sanction supervision, Control and monitoring of credit - Consortium finance, Multiple banking, Syndication of loans. Infrastructure financing. Dealing with credit defaults, Stressed assets, Corporate Debt restructuring, SARFAESI, NPAs, recovery options, and write-offs. Disclosure of the list of defaulters: objectives and procedure. Appraisal methodology for a different type of clients/ products.
COMPULSORY PAPER - II: BANK FINANCIAL MANAGEMENT
MODULE - A: International Banking
Forex Business; factors determining exchange rates, Direct and indirect quotations, spot/forward rates, premium and discount, and cross rates. Basics of forex derivatives; forward exchange rate contracts, Options, Swaps. Correspondent banking, NRI accounts Documentary letters of Credit - UCPDC 600, various facilities to exporters and importers. Risks in foreign trade, the role of ECGC, types of insurance and guarantee covers or ECGC. Role of Exim Bank - Role of RBI and exchange control - Regulations in India, Role and rules of FEDAI - Role of FEMA and its rules.
MODULE - B: Risk Management
Risk-Concept - Risk in Banks - Risk Management Framework - Organizational Structure - Risk Identification - Risk Measurement/ - Sensitivity - Basis Point Value (BPV) - Duration - Downside Potential - Value at Risk, Back Testing - Stress Testing - Risk Monitoring and Control - Risk Reporting - Market Risk identification, Measurement and management/ credit risk - rating methodology, risk weights, eligible collateral for mitigation, guarantees; credit ratings, transition matrices, default probabilities, Credit risk spreads, risk migration and credit metrics, Counterparty risk. Credit exposures, recovery rates, risk mitigation techniques, Operational and Integrated Risk Management - Risk management and capital Management – Basel Norms- Current guidelines on risk management.
MODULE - C: Treasury Management
Concepts and functions; instruments in the treasury market, development of new financial products, control and supervision of treasury management, linkage of domestic operations with foreign operations. Interest rate risk, interest rate futures, Mix/ Pricing of Assets, Liabilities - On-Balance Sheet Investment and Funding Strategies - Stock options, debt instruments, bond portfolio strategy, risk control and hedging instruments. Investments - Treasury bills, money market instruments such as CDs, CPs, IBPs Securitisation and Forfaiting; refinance and rediscounting facilities
MODULE - D: Balance Sheet Management
Prudential norms - Capital Adequacy. Implementation of 'Basel Norm's guidelines: RBI guidelines. Banks Balance Sheet - Components of assets/ Liabilities/ ALM Implementation - RBI Guidelines - Gap Analysis - Mechanics, Assumptions, and Limitations - Illustrations of Actual Gap Reports - The Relationship Between Gap and Income Statement - Funding Liquidity - Trading/ Managing Liquidity - Contingency Funding - Business Strategies: Profit and profitability analysis, Asset Classification - provisioning - effect of NPA on profitability, Shareholder value maximization & EVA- profit planning measures to improve profitability. Disclosure guidelines